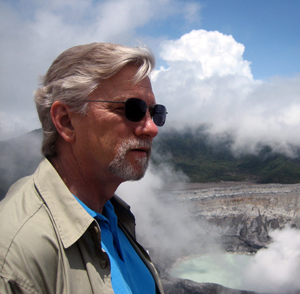 I began my career in international economic development in 1968 when I headed off to Kenya as a Peace Corps Volunteer.  Uncle Sam was offering me other opportunities to see the world, or at least SE Asia, at the time but I felt that the Peace Corps would give me a better opportunity to support values in which I believed deeply and to contribute to making the world at least a little bit better place — and less reliant on violence as a response to the injustice of huge economic inequalities and human rights abuses.  Yes, I was an idealist.  Hey!  Those were the 1960s.  There were a lot of idealists around at that time.
Prior to that major life decision I had been raised in a loving and empowering household in western Oregon with parents who believed strongly in the value of striving and sharing.  We worked hard and were active participants wherever we engaged.  I was active in 4-H (Young Farmers) from the time I was 9 years old until I left for college, participated in many of the student activities in the small schools I attended and worked throughout my youth in many jobs including delivering newspapers, building turkey pens, milking cows, baling hay, stocking shelves in a small grocery store and others.
My first international experience came during my third year at the University of Oregon when I took the opportunity to spend a year in the Netherlands studying international business, meeting the very lovely and tolerant young lady who has been my partner ever since and catching the travel virus.  After that, there was never a moment's doubt that I would spend my life doing something "international".  And, I have.
Long term assignments in Ghana (twice), Indonesia, Palestine, Armenia and Moldova along with short term jobs in about 40 other countries in Africa, Latin America, the Caribbean, South East Asia, the Middle East and Eastern Europe have given me the opportunity to participate in very many development efforts of different types.  Most, but not all of those assignments were funded by USAID, but I have also been involved in programs sponsored by the World Bank, the Millennium Challenge Corporation, European donors and private companies.  Nearly all of my assignments have given me the opportunity to work closely with small businesses and farmers as well as the government agencies with which they are associated.  I have contributed to the design, management and evaluation of development programs ranging from rural micro-finance, to reducing the danger of avian influenza, to developing international markets.
I have always put a lot of value on being honest with my clients, my partners and myself, fully realizing that being "honest" does not necessarily correspond to being "right".  I have had both successes and failures in my career and have worked hard to learn lessons from the latter that would add to the proportion of the former in my overall record.  Now I would like to share some of those lessons with anyone who cares to log on.  I hope that they will be found have value, especially to the young professionals who are just entering the field and are open to a broad spectrum of ideas.
For anyone who may find the above personal profile lacking in detail, I am attaching my full CV in the navigation bar at the top.